Big Ass Fans welcomes JJ Rodgers as Vice President, Finance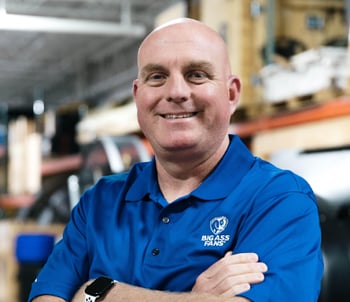 [Lexington, KY - June 7, 2023] — Big Ass Fans, the global leader in innovative and energy-efficient airflow solutions, is delighted to announce the appointment of JJ Rodgers as the company's new Vice President of Finance. With an extensive background in finance and strategic planning, Rodgers brings a wealth of expertise to his new role, further strengthening the executive leadership team at Big Ass Fans.
As the Vice President of Finance, Rodgers will be responsible for overseeing all financial operations and driving the company's financial strategy to support Big Ass Fans' continued growth and success. His keen financial acumen, analytical skills, and proven track record in financial management make him an ideal fit for this crucial position within the organization.
Rodgers joins Big Ass Fans after an impressive career in finance, during which he held various leadership roles at renowned companies in the industry. With a deep understanding of financial systems, budgeting, and forecasting, he has successfully led organizations through periods of rapid expansion and market challenges, delivering consistent financial performance.
"JJ Rodgers is a seasoned finance executive with a remarkable ability to drive financial excellence and operational efficiency," said Ken Walma, CEO of Big Ass Fans. "His strategic mindset and vast experience will be invaluable as we continue to expand our global footprint and innovate in the airflow solutions industry. We are thrilled to welcome him to the Big Ass Fans family."
Rodgers expressed his enthusiasm about joining the company, stating, "I am honored to be a part of Big Ass Fans, a company that has truly redefined the industry through its innovative and sustainable products. I look forward to working closely with the exceptional team at Big Ass Fans and contributing to the company's continued growth and financial success."